What does foot fetish lust mean for you? Worship to the naked feet of a Mistress, licking a foot in nylon, kissing high heels, sucking lovely toes, footjob, ejaculating on sexy soles or what else?
Maybe this foot fetish lust gallery with one Lady and 2 boys is something which includes a perfect foot fetish lust for a woman.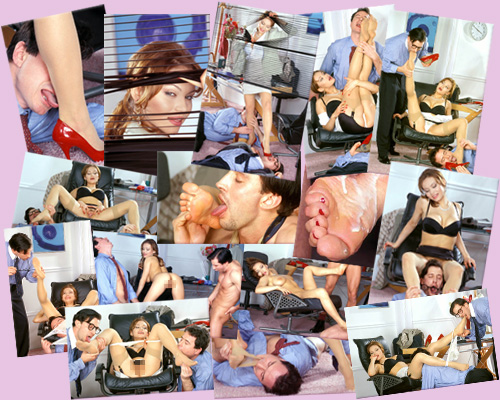 Adeline becomes a good slave after humilation, punishment and education by her Mistress Tugce. Now Tugce can relax and enjoy the service of her slave. Adeline washs the feet of her Mistress with champagne. She licks the soles with the natural foot taste together with the taste of champagne. It is unbelivable for her. She becomes more and more horney by worshipping the feet. Licking, kissing, sucking the soles and toes makes her really wild. A passion of lust, fetish and pure erotik is in the air.
Lady Rose like to punish the lovely feet of her slave. Tickling is a bitchy torture because you feel pain although you're laughing.
Alexa has another foot fetish partner out of Caitlyn. She lives out her submissive fetish desires with Candi in a D/s relationship. She likes to server to her feet and to be her slave. She worships her feet with all her passion when she sucks, licks, kisses her soles and toes. Cleaning the foot with her tongue is a rare privilige for her.
Janet and Nicole like Sallenaz very much. Especially they love to be slaves to her feet. This is an album about a feet fetish party. These 3 girls come together to have real hot fetish moments. Desires can become true. But this is more than an album. We also have the videos about this night of erotic fetish pleasures. Janet and Nicole massage Sallenaz feet, lick the sweat of the nylons, they take them off to lick the naked soles, they tickle and love the beautiful feet of Sallenaz. Sallenaz has problems to control her feelings which become extremely wild.
Jana gets the order to wash her dirty feet. Her Master is really angry so she does her best to clean the soles. Else the bad slave will be punished with bastinado.